Having worked with Gym and Slim, a ladies only fitness centre in Boldmere, Sutton Coldfield for several years we thought National Women's Fitness & Health Day gave us an excellent excuse to find out more about Eve's journey and what her gym means to so many women in our local area.
Eve thanks so much for giving us 5 minutes of your time.
How long have you been running Gym & Slim Eve?
I took over 11 years ago in November 2007. It had already been open for two years when I took over.
Where are Gym and Slim based?
We are in the middle of Boldmere, behind the main shops. We are tucked behind slightly, so I often say we're near the Harvester as everyone tends to know the pubs!
What inspired you to take over the gym?
I used to be a European Purchasing Manager for Cadburys, so I was working for a big corporation travelling and working away all the time. I was getting married and wanted to have a family, and I just knew that I didn't want to be doing this high powered job, flying all over the place anymore.  I'd dipped in and out of fitness when I was younger, and I was Googling possible career changes and saw that there was a gym for sale in Boldmere. I popped in one night on my way home from Cadburys and immediately loved the ethos and what it represented. So I joined as a member and then ended up buying the gym! It went through the day after I got back from my honeymoon!

Wow, that was a big change!
Yeh, technically I was unemployed when I got married, and then I was launched into marriage and 60 hour weeks, seven days a week at the gym
Do you think your previous job helped you?
I could definitely use my experience and corporate knowledge to improve the gyms processes and procedures and to increase the professionalism of the service we provide.
Did taking over the gym bring you what you hoped it would?
Yes. I really wanted to create a community within a community. That is how Boldmere feels. It has a very strong sense of community with lots of independent shops, and the shopkeepers all know each other, and that's what I wanted for the gym. I wanted it to be available for people of all shapes and sizes, where they could feel safe and welcome.
Did you consider changing it from a female only gym to a mixed membership?
I just felt that if I changed it, I would lose lots of our members. They just wouldn't feel comfortable, and for many of my members, there is the religious aspect of exercising with men. I felt like it was important to keep providing somewhere they could come and feel comfortable. Our membership is not your typical gym membership. They would find normal gyms intimidating, and most of my members would not feel confident enough to go to a mixed, regular gym.
What do you love most about running Gym & Slim?
The feeling I get when I know we have helped someone and we have done some good. For me, the gym is as much about the social side as it is the fitness. Our members get so much out of coming to us.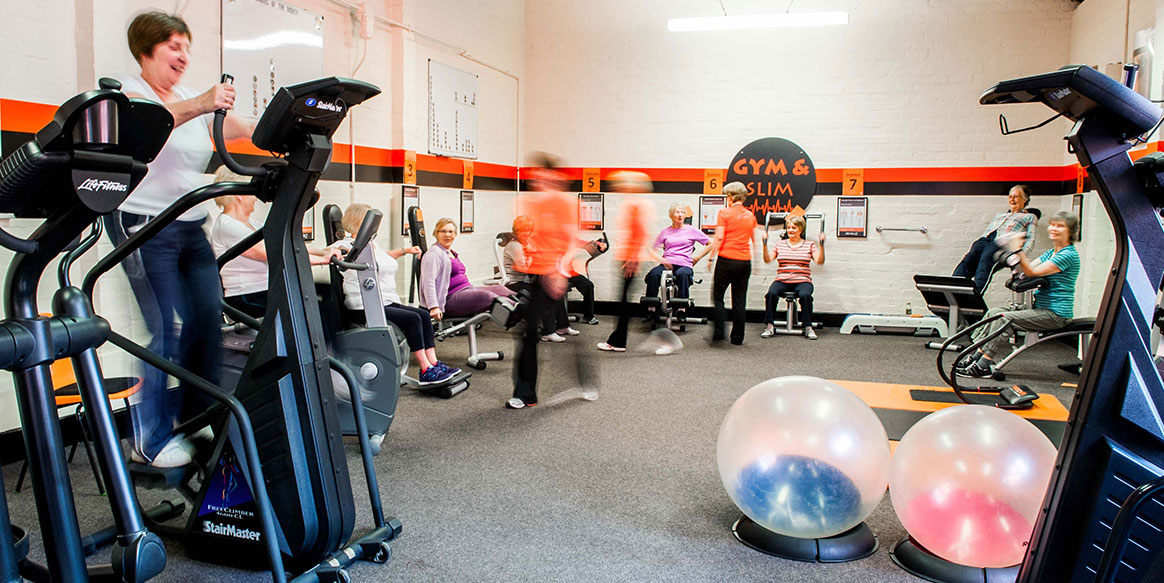 What changes do you see in your members?
Obviously, there are the physical benefits like losing weight, getting fitter etc. but for me, I really think the psychological benefits are the most important. Their energy increases, their positivity and they have somewhere they can interact and make friends. It makes such a difference.
What do you think your members would say about Gym & Slim?
They would say they were pleasantly surprised. We can try and explain on the phone but until you come down you can't appreciate what it is like. Everyone who comes in is struck by how friendly it is. I always say my members sell the gym for me!
Lastly Eve, if there was someone thinking of going to a gym but was really nervous what would your advice to them be?
Just go and give it a try. You can't tell till your there. We offer free trials, most places will, so give it a try and see yourself.
So ladies, after hearing from Eve are you feeling inspired to increase your health, fitness and mental wellbeing? We really do all need to get to the gym!
If you would like to know more about Eve and Gym & Slim you can visit www.gymandslim.com or call 0121 355 8486.
And you can see the work we did for them here.