Continuing our '5 Minute' series with the fabulous Amy Hyland, owner and creator of the equally fabulous 'The Garden Room'.
We met Amy after a recommendation from Rachel at Frankie Doodle's (who also happens to have her own '5 minutes with' too!) and immediately connected with her and adored her beautiful branding and mission.
Following her recent website launch, we continue to work closely together and we were thrilled when she contacted us to say 'I would love to do a 5 minutes!'. We hope you enjoy it as much we did.
Hey Amy! Thank you so much for talking to us. You know how much we love The Garden Room, it's so special. Can you tell our followers, who don't know you at the moment,  a bit about yourself and how The Garden Room came to be?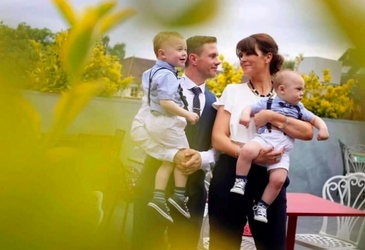 Ahhh, thank you, kind of you to say. So, I'm fresh from the corporate world, I've had a marketing career, mainly in the private healthcare sector for the last 'blah blah/cough cough' years and it wasn't making me happy or well.
I have been self-employed before (as a graphic designer and running a holiday home business) so I absolutely know this is my lane and much more 'me'.
The Garden Room has been a concept for a couple of years now but like everyone the Covid pandemic brought so much to the forefront for me and fortunately (yes really!) led to my third redundancy in a row. It was a great opportunity for me to change my life completely and go for it.  
You really have created so much, so quickly and it really is something we are all trying to achieve, especially since lockdown like you say. We've been lucky enough to spend time with you and share your passion and ambition. How do you explain your vision for The Garden Room to your customers?
I'm so happy to have found you guys, you've been instrumental in some of the big decisions I've had to make as an online business so I've been the lucky one! *group hug*
The vision for The Garden Room is to offer a high-end, boutique-style buying experience to anyone who loves gardens and nature by way of stocking décor, accessories and gifts. I'm competing with the big guns like garden centres but I want to offer something gorgeous and more bespoke. Whether it's the curation of slightly unique styles and products you will be able to find on my website; the inspiration and ideas I help you with; to the way your item arrives beautifully packaged … I want it to feel different with a personal touch.
I've also taken advantage of the nation's renewed love for their gardens as during the last couple of years they became the only place we reunited and reconnected with loved ones when everywhere else closed down. I've always treated my own garden as an extension of our home and as such called the business 'The Garden Room'. Outside spaces, balconies, gardens and snugs deserve to be adorned and be just as prettily decorated as any room inside a house and I want to help people bring that concept to life.
I think we all have seen beautiful Garden Rooms but when it comes to our own it's so much harder, which is why we need you! As well as helping us all create amazing outdoor spaces, we know you have a young family and a puppy! How do you try and balance life, family and work? And what have you found that works for you?
Actually, much better. My previous role meant I was out on the road 3-4 days a week, doing long days in meeting rooms and driving all over the UK. Previous to that I spent a lot of time travelling internationally, which sounds glamourous but isn't. Sounds cliched but there's more to life than a big flashy job with the 'perks'; my mind and body started telling me that profoundly during 2020.
Alarm bells should have been ringing when my eldest son was laying the table one night for dinner and used my open laptop as my place setting. My work was never put away and I would be taking calls and answering emails when it should have been family time.  
Now I can take my time waking and saying hello to the world, I spend time having meals and chats with my boys and doing the school runs. I can enjoy walking my gorgeous little office pal, Dexter the border terrier,  and taking an afternoon off when I want to ride horses – all of which have been so good for my wellbeing and productivity.
Of course, I work super hard on my business – not every waking hour and not 24/7 but by taking small strong steps every single day to make things happen. The flexibility is there, I can pace myself and at the end of the day absolutely everything I achieve is for me and my family – no one else. It's a great feeling.
That's so good to hear and it really is about quality rather than quantity isn't it and getting to a balance that works for you. You've obviously been working super hard to achieve what you have so quickly and with a family and a pandemic is really inspiring. You came to us with your branding and guidelines and were fully formed, and they are so beautiful. What would be your top advice for people starting their own business when it comes to branding?
Goodness, me yes, I'm a fussy perfectionist and marketing/branding is my absolute passion. I probably put far too much pressure and emphasis on this element because it was supposedly what I was good at it. I felt I would be very judged by what I put out, this made me nervous and hesitant in a way. I visited a concept called 'brand soul essence' and built my branding around some really keywords that were important for my brand to emit.
I treated myself as a client, as I would have done with anyone else. It was a fun yet weird experience. I constantly questioned what I was doing and why, and I made myself come back to all the crossed t's and dotted 'i's that exists when you work in this field. I caught myself just picking colours, fonts, images, messaging I liked but then discounted a lot once I'd really examined if they were going to work from a customer journey perspective.   
I would say to anyone starting a business that you will obviously have some very solid strengths but don't get lost down that particular rabbit hole. The complete reality is you will be wearing a lot of different hats and before you start ask yourself is that what you want. For example, I really enjoyed and thrived setting up the business and doing all the initial marketing because that's what I've done in a previous life and what I have trained for but after that phase diminished my main responsibilities are making the finances work, admin, stock control, buying (aka SHOPPING), customer service etc. You may be leaving a world where you've had teams of people around you to do the bits you're not so great at, all of which will become your reality very quickly…it's just something to point out.
It is a huge job, isn't it? Warwick says the same thing, as a small business owner you wear so many hats and like you say, the bit you love, the reason you do what you do, can often get pushed down. Obviously, this isn't all you do and you've had an extremely comprehensive career before creating The Garden Room. How do you think your previous roles have prepared you for managing and building your business (and were there any surprises that you weren't expecting?
I did get a massive surprise!
I've had a career in marketing but more recently my roles have been very strategic with management and leadership responsibilities. I've had superb and talented people surrounding me to live and breathe the specialisms that exist within marketing.
Take digital marketing for example and social media. Wowser! Getting to grips with Instagram, Pinterest, TikTok, email marketing, SEO/web content etc. has been a baptism of fire and it changes so quickly and is a full-time job in it itself. While I pride myself in being a marketer…I have had to go back into training and do some courses to get back up to speed.
Social media can be a minefield, can't it? And does takes up so much time. People can be critical of it, but how have you found it and what would be your top tips for managing a business social media account?
Honestly, I'm not sure I'm the best person to ask. I'm not an expert as I've already explained (nor I fear will I ever have the time or skill to become one) but I do really enjoy it. It is without doubt the most powerful tool to reach an audience that a small business has at its disposal.
My main advice (away from extra training or a little refresher course will never harm) is: be yourself, keep it authentic, be warm, real and friendly; answer / like all the comments people so kindly leave. Remember most people on social media are there to be positive and supportive and to learn from you and your passion – please try to ignore the 'haters' they won't be worth your energy! You're the expert of you and what you are putting out into the world. Lastly, people do business with people so don't be afraid to represent your brand and say hello in person once in a while.  
I think you are so right. Being 'real' and authentic is so important, especially for smaller businesses. And I think it's good to know what we are not all experts. Have you taken advice from anyone or is there anyone who has inspired you?
So many people. It's been very much a case of being in the right place at the right time surrounded by many awesome people I've met since moving to Shropshire. I have received so much help, advice and support.
Most importantly I'm inspired to make my boys proud. When I was poorly I was so worried I would never get back on my feet or work again and most days it's still tricky getting the balance right. It's important for me and their dad to show them we work, we contribute, money that can buy nice, or important things, and doesn't grow on trees, and you must always do what makes you happy – this inspires me the most.
That's such an important message Amy. Our Son has autism and I read an article once that said we often strive for extraordinary but actually ordinary and what is right for you and makes you happy is actually extraordinary in itself. Not that I don't think The Garden Room isn't extraordinary by the way! But making yourself a priority too is so important. It's about balance like you say, isn't it? What have been your extraordinary moments so far for you?
Receiving stock is always a highlight, it's like Christmas and my youngest boy LOVES the cardboard boxes it comes in. It was always an ambition to get to the autumn trade fayres to meet with suppliers and find some great UK businesses to partner with – I've done that in the last couple of weeks. Going to my first supplier and putting the first order in. Registering the business 2 days after being made redundant.
All good moments but by a long shot (and not just because your asking)… the launch of the most beautiful website I am lucky enough to call my own. That was monumental and it was the point where everything felt very real and like it was all coming together and making sense.
Ahh, that's so lovely. Honestly, it made our night that Friday when you called so over the moon with your friend. It was a special moment for us too. Lastly Amy, what would you say has been your biggest lesson so far with The Garden Room?
Well, I haven't been going that long but I've learnt that setting up a retail business in the midst of Covid, Brexit, HGV driver shortage and shortly after a cargo ship got stuck in the Suez Canal is far from ideal. I've also learnt that you can't start learning (ha!) until you start making mistakes. Most of those mistakes will be small, some of them will be a bit bigger but very rarely will they be catastrophic. I've already learnt so much about the products I want to curate and that has changed so much in the short time the business has been trading, plus seasonality and planning for spring and Easter, yes already, is a brand-new concept for me. All of which I would never have known about if I hadn't started somewhere.  
I'm looking forward to the business growing, receiving every single new order as if it's my very first and finding more and more beautiful things to share with my 'Roomies'.
We absolutely can't wait to see what you do, and stock!, next. It's such a pleasure to work with you and has been so lovely to talk to you today. Thank you so much for your time. Just one thing left. Your 'this or that'!!
Chocolate or crisps? Crisps – Thai Sweet Chilli Sensations if you want to get specific.
Wine or beer? Champagne ;0)
Walking or cycling? Walking. Cycling is sadistic, even with padded gel seats.
Dogs or cats? Dogs. Dexter would be most put out if I said otherwise.
Tea or Coffee? Tea, although I always suggest 'going for coffee' as it sounds so sophisticated but never drink the stuff.
Summer or Winter? Autumn?
Red sauce or Brown? Usually red. Unless it's with a cooked breakfast then I mix them together – yum.
Emailer or brochure? Brochure, I studied Publishing and I'm still weirdly obsessed and exhilarated by paper types and fonts.
Driving holidays or flying? Flying (somewhere very sunny and hot please)
Active holidays or beach holidays? Beach. Who goes on holiday to actually do things that will tire you out? I'm already too tired for that.
Cosy nights in or wild nights out? Cosy. My days of wild nights are well and truly over. Unless I want to spend the three days drinking Alka-Seltzer through a straw in bed.
City or countryside? Countryside, preferably on horseback
Passenger or Driver? Driver. I love a bit of speed. My licence, however, does not.
Soaps or Box sets? Box sets – all-time fave is Outlander, whilst I can't even listen to a millisecond of Eastenders or Coronation Street.
Brilliant answers Amy, especially the champagne!! And I need to Google 'Outlander' asap (we haven't watched the soaps for years now either)! Thank you so much and cheers to your magical Garden Room.
Now you've met Amy, why not pop over to The Garden Room website and fall in love! You will definitely find the perfect gift, including something for yourself!
You should also follow her on Instagram and Facebook – they are wonderful, uplifting accounts, especially if you love your outdoor spaces.